✔️ Hungarospa Thermal Hotel Hajdúszoboszló ***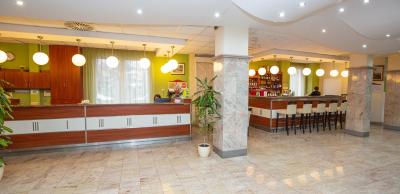 Hungarospa Thermal Hotel *** - Hajdúszoboszló

Hungarospa Thermal Hotel*** opened in September 2005 is located in quiet environment, on the area of Europe's largest bathing complex in Hajduszoboszlo. The hotel guests can use free of charge the 13 pools of the open-air baths spread over 30 hectares.
The four-storey Hungarospa Thermal Hotel*** provided with lift offers 93 two-bedded rooms, 12 three-bedded rooms, 6 single rooms (among them there are 3 rooms are furnished to accommodate disabled people) and 3 apartments. The rooms are air conditioned.
The rooms have private bathroom (partly with bathtub), colour TV (satellite), telephone, room-in safe and minibar. Some of the rooms are non-smoking and provided with Internet connection. There are 6 rooms with parquet-flooring available for guests suffering from allergy. The guests can choose from rooms with loggia or French balcony.
The apartments are individually furnished, have sitting room, bedroom and an exclusive bathroom. They are excellently suitable for families.
The culinary enjoyment is ensured by the restaurant seating 160 persons with a summer terrace, together with the drink bar situated in the hall. Both the domestic and the international range can be found in the selection of food and drinks.
Hungarospa Thermal Hotel Hajdúszoboszló *** has its own therapeutic section and thermal pools. In the thermal hall there are 3 thermal pools with different temperatures, a weight bath pool and a sauna. The outdoor thermal pool can be reached directly from the hall. The steam room and the infra sauna are located in the basement of the building.
The treatments are available following a consultation held with the specialist: mud pack, underwater jet massage, medical massage, inhalation, iontophoresis, interference, ultrasonic, locular electric bath, therapeutic gymnastics, effervescent bath, weight bath and salt room.
The cures have beneficial effect at presence of locomotor disorders, gynaecological diseases and chronic skin diseases.
AQUA-PALACE - COVERED EXPERIENCE BATH
Aqua-Palace Covered Experience Bath will be constructed in Hajdúszoboszló, as part of the biggest bath complex in Europe.
The experience bath will have an area of 15,000 m2, a water surface of 1,600m2, and will be able to receive 1,000 persons at the same time.
Services of Aqua-Palace:
Experience bath system to those wishing for a special, thematic bath environment, and unique wellness experiences:
Tropical bath, Ice cave bath, movie bath, Pávai thermal bath, cave bath, Roman bath, Ganges bath, sea bath, and slide pool
Bath for children and families - Special offer in Hungary for families with young children:
Pools for babies, mothers, and baby swimming, activity and resting rooms for children, nappy change room for the youngest, family pool, Jacuzzi and 2 children's slides for older children
Sauna system for the followers of healthy lifestyle:
Finnish saunas, sweating rooms, infrared saunas, massage shower, plunge pools
Private baths for families and companies of friends:
3 private bath units with Jacuzzi and Finnish sauna
For the lovers of active relaxation:
2 stand up surfing tracks for the lovers of water sports, swimming pool, gym, aerobic room, 2 squash courts
Beauty saloon:
hairdresser, cosmetics, manicure, chiropody, lying and standing solariums, thai massage, alternative massage types, acupuncture to those wishing for some pampering wellness feeling.
Gastronomy:
Snack bar, self-service restaurant, coffee bar for the lovers of delicious snacks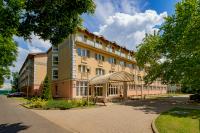 ✔️ Téli Spa napok a Hungarospa Thermal Hotelben (min. 2 night)

2023.11.05 - 2023.12.22
Téli Spa napok a Hungarospa Thermal Hotelben (min. 2 éj) 25.600 Ft / fő / éj ártól / félpanziós ellátás / szállodai medencék, szaunák használata / belépő a gyógyfürdőbe / Aqua-Palace belépő / ingyenes wifi /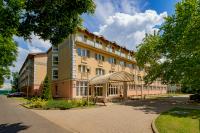 ✔️ Téli 4 éjszakás akció a Hungarospa Hotelben Hajdúszoboszlón (min. 4 night)

2023.11.05 - 2023.12.22
Téli 4 éjszakás akció a Hungarospa Hotelben Hajdúszoboszlón (min. 4 éj) 24.800 Ft / fő / éj ártól / félpanziós ellátás / szállodai medencék, szaunák használata / belépő a gyógyfürdőbe / Aqua-Palace belépő / ingyenes wifi /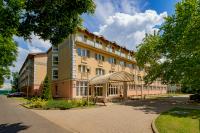 ✔️ Karácsony a Hungarospa Thermal Hotelben Hajdúszoboszlón (min. 3 night)

2023.12.22 - 2023.12.27
Karácsony a Hungarospa Thermal Hotelben (min. 3 éj) 37.700 Ft / fő / éj ártól / félpanziós ellátás / ünnepi vacsora / belépő a Hungarospa gyógyfürdőbe / Aqua-Palace belépő / ingyenes WiFi /