✔️ Tó Wellness Hotel Bánk ***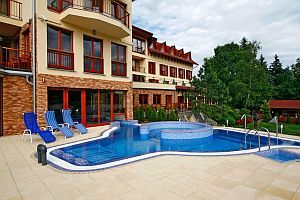 To Wellness Hotel *** Bank
The 3-star To Wellness Hotel is a romantic and elegant wellness hotel in Hungary. It is located in Bank, 65 km far from Budapest, about 15 minutes drive from Vác on the main roads number 2/a and 2.
The hotel is located at the meeting point of Börzsöny and Cserhát Mountains, on the picturesque shore of Lake Bánk.
It is easy to approach from Austria.
To Wellness Hotel offers 58 rooms. Our rooms with amazing view to Lake Bánk are comfortable for our handicapped guests too. Every room is non smoking and has television, phone and minibar. The bathrooms are equipped with tub/shower and hairdryer.
Tó Wellness Hotel Bánk - Room types:
Standard rooms: located in the earlier wing of the hotel, have view to the lake or to the street, most of them with balcony or french-balcony.
Classic rooms: are mostly located in the new wing of the hotel, all have larger floor space, balcony and lake view.
Deluxe rooms: are located in the new wing of the hotel, all have larger floor space, balcony overlooking the lake, there is a double bed and a pull-out sofa in each room.
The hotel's restaurant and cafe ensure the gastronomic enjoyment, where gourmands can try different flavors of the Hungarian cuisine. Our menu also offers international, children, vegetarian and reform meals.
The restaurant has a beautiful terrace with a stunning view of Lake Bánk. At winter time our garden pavilion is an intimate scene of welcome parties with hot wines and baked chestnut, at summer time it is a perfect venue for wedding ceremonies, garden parties and grill dinners.
The 3 air conditioned conference rooms - Dixie, Jazz and Swing - of the hotel are exceedingly suitable for conferences, trainings, jubilees, business talks, press conferences, receptions, weddings, musical, dance and other programs. The conference rooms have a max. capacity of 80 persons. The conference rooms have natural lighting and are equipped with technical tools (flipchart, overhead projector, screen, sounding, projector) when required.
The hotel's wellness center is an excellent place for relaxation and refreshment. It offers outdoor and indoor swimming pool, jacuzzi, Finnish and infra sauna, vapor cubicle, tepidarium, Kneipp-tread basin, massages, different types of wellness machines and fitness room.
Indoor and outdoor playgrounds are available for children.
We ensure bicycles for our guests to discover the countryside when required.