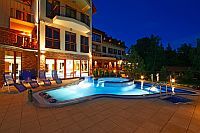 ✔️ Tó Wellness Hotel Bánk
2653 Bánk, Petőfi út 73.
Phone: 00-36-1-2279614
Hotel video
 The 3-star To Wellness Hotel is a romantic and elegant wellness hotel in Hungary. It is located 60 km far from Budapest, in Bank, about 15 minutes drive from Vác on the main roads number 2/a and 2. The hotel is located at the meeting point of Börzsöny and Cserhát Mountains, on the picturesque shore of Lake Bánk. Our hotel is a perfect place for those who look for a quiet and natural environment to relax near by Budapest. The hotel awaits its guests with 36 rooms, 3 conference rooms, gastronomic and wellness services.