✔️ Andrássy Kúria Tarcal *****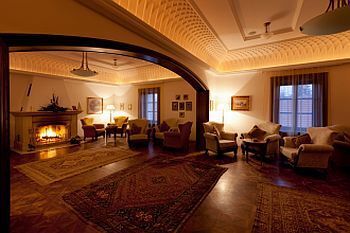 Andrassy Kúria Hotel Tarcal **** Wine & Spa Wellness Tarcal
The hotel:
The new 5-star "Andrássy Kúria Hotel **** Wine & Spa" - situated in the town of Tarcal, which is part of the Tokaj foothills (part of the World Heritage) - opens its doors to its guest at the beginning of 2008.
The two-storey mansion-building with 40 rooms and one presidential suite is built together with the Andrássy Vinery in the center of Tarcal, next to the main road.
With its five star ranking, and several culinary and wellness services - with a highly trained professional team - the hotel provides a pleasant stay for all guests.
Andrassy Residence Tarcal /Kuria/- The rooms:
Our 3 standard, 32 superior and 3 deluxe two-bedded rooms as well as the 2 junior suites and one presidential suite with an area of 100 sq. meters are at the disposal of our guests, are all over five-star category in respect to area and equipment. All rooms have large windows, wall-to-wall carpeting, blackout curtains, ceiling lighting, magnetic card entrance (controlling energy saving), with security lookout on the door.

For the comfort of our guests the rooms are equipped with a silent air conditioning system, a satellite TV, cable Internet connection, a laptop size safe, and a multifunction LCD TV.
The bathroom is equipped with hairdryer, bathrobes and complimentary VinoSense products (shampoo, body cream, anti-stress foam bath and shower oil). The bathrooms in the suites and are equipped with a bidet.
The hotel has one room fully equipped to serve disabled persons.
We kindly request that you not to smoke in the rooms.
VinoSense Spa and Wellness Center:
VinoSense Spa invites you to experience the first Vinotherapy Spa in Hungary. We offer a wide range of unique treatments based on the latest scientific discoveries involving the anti-aging properties of the vine and grape seed extracts. Rich in polyphenols, the extracts in our wraps, facials and massages combat free radicals, which are responsible for 80% of aging.
Our Spa offers a wide range of treatments. For a luxurious experience, soak in a bath enriched with Tokaj wine extracts and essential oils, followed by a nourishing remineralizing wrap, while suspended in warm water in our special "Soft-Pac" hydrotherapy bed. Or try our Warm Sand massage bed: imagine yourself lying on the beach- being pampered with traditional Thai herbal compresses, soaked in warm grape seed oil. Administered by expert hands, our treatments will leave you relaxed and rejuvenated.
Each of our VinoSense cosmetic and body products contains grape oils, seeds, or extracts developed and tested by sophisticated cosmetic laboratories.
Wellness Services in Andrassy Residence Hotel: Finnish sauna,Turkish steam sauna, aromatherapy cabin, infrared sauna, color therapy cabin, salt-grotto, Jacuzzi, swimming pool, solarium, winter garden for sunbathing, adventure showers (massage jets with light- and aromatherapy), cave baths, manicure and pedicure treatments, massages.
We provide bathrobes for our guests.
Anrdassy Residence - Wine and gastronomy:
In the Passione Restaurant - the sister of which is opening in Budapest Szabadság tér in May - the selection of food will not be ordinary. Regional and international cuisine, foods made with the use of the Tokaj wine, our very own bakery, grill-food during the summer months are all awaiting our guests.
We organize wine introduction and tasting for groups together with a visit to the cellars and the winery including the vineyard, food, grill, and entertainment.
Further hospitality offers: winter garden with terrace (grill terrace), salon.
Hotel Andrassy Residence /kuria/Events, conferences:
Andrássy Rezidencia Tarcal offers a unique event capacity in the area. The conference room for 120 person with its most modern technical equipment, the smaller section rooms, the park, the winter garden, and the grill terrace can be the venue of any company or family event (team-building trainings, weddings, conferences).
Tarcal - Tokaj - Programs:
The area of the Hotel is part of the Tokaj-Bodrogköz wildlife reservation and offers a wide range of sporting possibilities: forest and river excursions, skiing, fishing, and hunting. The Tokaj cultural region and the town of Tokaj itself can be proud of several monuments. We especially would like to call your attention to the Tokaj Museum which is naturally famous for its wine exhibit, and the TV tower from the base of which a magnificent panorama of the region can be seen.
For children we offer a playroom and animation. We also have child-friendly equipment such as a crib, child seat, etc.
You may leave your car in our own parking lot, where there is possibility for bus-parking as well.