✔️ Hotel Kikelet Pécs ****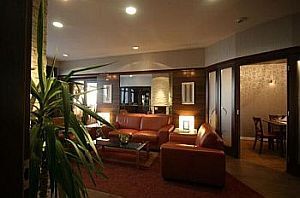 Hotel Kikelet **** Pecs
Pecs
Pecs, one of the major cities of Hungary is located in the southern part of the country. Thanks to the protective Mecsek mountains, lying north of the city, harsh weather conditions seldom bother locals. Temperate climate possesses a Mediterranean quality.
Pécs is famous for its relics and culture of the past. The more than 2000 years old town is the home of art and culture and it is famous for the museums as well as for its artistic life. Pécs and his surrounding is also popular of a region for grapes and wine.
Hotel Kikelet Pecs - Location:
The hotel is located in one of the most scenic spots of the Mecsek mountains, right above the downtown of Pécs. The hotel offers an unique, spectacular view on the town and the neighbouring hills.
Hotel Kikelet Pecs - Guest room information:
In the three-storey building - which is under protection of the Heritage Authorities of Hungary - are 33 double rooms available for our guests.
Rooms:
 Standard rooms (21 m2)
 Superior rooms (28 m2)
 DeLuxe rooms (42 m2)
All rooms have:
 TV
 Internet
 Phone
 Safe
 Minibar
 Bathroom
 Hair-dryer
Kind of rooms:
 Smoking and non-smoking rooms
 Room for physically challenged
 Rooms with parquet
 Rooms with bath or shower-bath
 Rooms with air condition
Restaurant
The hotel has two restaurants offering national and international cuisine. Looking down from the hotel terrace guests can enjoy one of the most breathtaking panoramas of the country.
Sport, fitness and wellness
Wellness gives relaxation, beauty and physical feeling of well-being. Our 560 m2 wellness centre offers several active leisure facilities: indoor wellness pool, outdoor swimming pool, children pool, whirlpool, sauna with tub-shower, infra-cabin, steam bath, solarium, massage, relaxation room, wellness bar, face and body treatments.
From the hotel take a walk to the most famous tourist attractions (TV tower, Zoo, fun-fair, monuments), which can be easily reached.
In the surrounding of Pécs you can find several sport opportunities (Tennis, Squash, Bowling, Billiard, Public bath, horse riding, etc.).
Meeting & Events
Our hotels guarantees you a cost-effective and stress-free event and provides great facilities combined with luxurious services.