✔️ Greenfield Hotel Golf Spa ****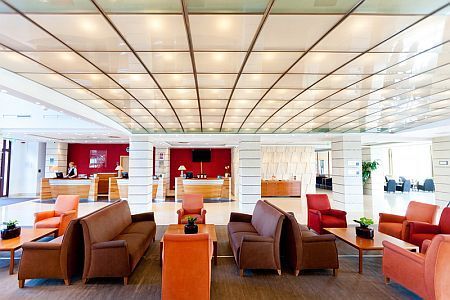 Greenfield Hotel Golf & SPA **** Superior - Bukfurdo

The Greenfield Hotel Golf & SPA hotel in Bukfurdo is a must for everybody emphasizing on the balance of his body and soul. The four-star wellness and thermal hotel offers unique services, tailor-made to our guests´ needs and concentrating on up to date health requirements.
The Hotel Greenfield Bükfürdő 207 elegantly furnished rooms and suites of the hotel offer all services expected from an international 4 star property and overlook either the exquisite golf course or the beautiful surroundings.
Equipment of the rooms: adjustable air-conditioning, WLAN in the whole hotel, Sat-TV, radio, minibar, safe, hairdryer, bathrobe, towels
Hotel Greenfield Bükfürdő Room types:
Standard double rooms:
Comfortable rooms with friendly colors are double or twin bedded without balcony & are suitable for two people.
Classic double rooms:
All of this well-equipped, stylish rooms have a balcony. Thanks to the spaciousness (min. 28 m2) can be accommodated 3 persons with extra bed in this roomtype.
Superior double rooms:
Our Superior rooms for all your need provide a beautiful view of the golf course from their balcony. The min. 28 m2 size rooms are suitable for 3 persons.

Deluxe Suite (1 bedroom):
The spacious Deluxe Suites, with a partially separate lounge and a large bathroom, let you truly unwind in our resort. The rooms overlook the beautiful surroundings. Some of the rooms provide a balcony. Size: 43-55 sqm. Max. number of guests: 3 adults or 2 adults and 2 children.
Resort Suite (2 bedrooms):
Resort Suites offering two separate bedrooms as well as a lounge are idealfor families. The Resort Suites feature separate bath and shower in the bathroom. The suites overlook the beautiful surroundings and some of the rooms provide a balcony. Size: 57 sqm. Max. number of guests: 2-4 adults
Relax in the 3500 sqm Spa and Sauna World providing the followings: 20 m long swimming pool, 2 thermal pools filled with own, qualified thermal water, fun pool, outdoor pool, children's pool, Finnish saunas, infra sauna, steam bath, salt chamber, light therapy and sonotherapy sauna, herbarium, tepidarium, frigidarium as well sunbathing terrace and state of the art fitness possibilities.
The thermal water of Bukfurdo is suitable for the prevention and treatment of rheumatic and orthopaedic disorders and injuries.
Guests may take advantage of medical consultations concerning preventative rheumatology (including examination and treatments), as well as plastic surgery. Our newly arranged animation program conducted by personal trainers will be subordinated to your individual medical needs.
Keep on enjoying our exclusive beauty treatments with luxury cosmetic products, when Ayurvedic and Thai massages touch all your senses and perceptibly enhance your well-being.
The perfectly maintained Greenfield Golf Course features an 18-hole/Par 72 Championship golf course, one of the most charming golf courses across Europe. Providing a driving range but also 7 beautiful lakes, the course is the ideal place for beginners as well as advanced golfers.
Our conference facilities are the ideal venue for banquets, cocktail receptions, parties and small meetings. Outdoor trainings - as well as team building possibilities complete our meeting services.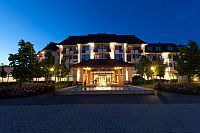 ✔️ Őszi hétköznapi wellness akció a Greenfield Hotelben (min. 2 night)

2023.09.01 - 2023.11.30
Őszi hétköznapi wellness akció a Greenfield Hotelben (min. 2 éj) 24.650 Ft / fő / éj ártól / félpanzió / SPA és szaunavilág használata / fitness terem / ingyenes wifi / ingyenes parkolás /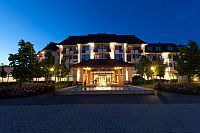 ✔️ Őszi lazítás wellness akció Bükfürdőn a Greenfield Hotelben (min. 2 night)

2023.09.01 - 2023.11.30
Őszi lazítás wellness akció Bükfürdőn a Greenfield Hotelben (min. 2 éj) 30.990 Ft / fő / éj ártól / félpanzió / SPA és szaunavilág használata / fitness terem / ingyenes wifi / ingyenes parkolás /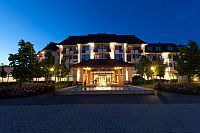 ✔️ Adventi pihenés a Greenfield Hotelben Bükfürdőn (min. 2 night)

2023.12.01 - 2023.12.22
Adventi pihenés Bükfürdőn a Greenfield Hotelben (min. 2 éj) 30.675 Ft / fő / éj ártól / félpanzió / SPA és szaunavilág használata / fitness terem / ingyenes wifi / ingyenes parkolás /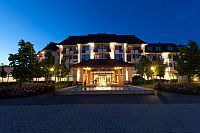 ✔️ Év eleji wellness akció Bükfürdőn a Greenfield Hotelben (min. 2 night)

2024.01.07 - 2024.02.29
Év eleji wellness akció Bükfürdőn a Greenfield Hotelben (min. 2 éj) 25.705 Ft / fő / éj ártól / félpanzió / SPA és szaunavilág használata / fitness terem / ingyenes wifi / ingyenes parkolás /