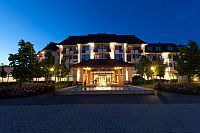 Hotel Greenfield Bükfürdő**** Hungary
9740 Bükfürdő - Bük, Golf út 4.
Phone: 00-36-1-2279614
Hotel video
The four-star superior wellness and thermal hotel Greenfield Golf & SPA **** awaits its guests in Bukfurdo in beautiful surroundings. The 3500 m2 Spa and Sauna World, the elegantly furnished rooms and suites, the medical treatments and the 18-hole Championship golf course located only 200 metres from the hotel offer the unique possibilities of relax, refreshment and healing.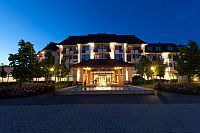 ✔️ Adventi pihenés a Greenfield Hotelben Bükfürdőn (min. 2 night)

2023.12.01 - 2023.12.22
Adventi pihenés Bükfürdőn a Greenfield Hotelben (min. 2 éj) 30.675 Ft / fő / éj ártól / félpanzió / SPA és szaunavilág használata / fitness terem / ingyenes wifi / ingyenes parkolás /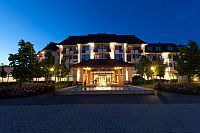 ✔️ Év eleji wellness akció Bükfürdőn a Greenfield Hotelben (min. 2 night)

2024.01.07 - 2024.02.29
Év eleji wellness akció Bükfürdőn a Greenfield Hotelben (min. 2 éj) 25.705 Ft / fő / éj ártól / félpanzió / SPA és szaunavilág használata / fitness terem / ingyenes wifi / ingyenes parkolás /