✔️ ENSANA Thermal Hévíz Health Spa Hotel ****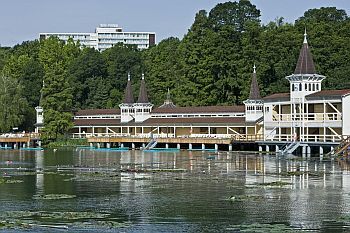 ENSANA Thermal Hotel Héviz ****superior - spa & wellness hotel
"Tradition, experience and expertise"
• In picturesque green surroundings, 5 minutes' walk from the largest natural thermal lake in Europe.
• Perfect place for relaxation, wellness, beauty and medical treatments and de-stress programmes with doctors and lifestyle specialists.
• In tune with nature: national certified thermal water and unique Hévíz mud.
• Kick off your shoes and go for a swim in the 200m² hydro pool with underwater music and light effects.
Ensana Thermal Hotel Hévíz - Location
Only 500 m from the well-known thermal lake of Heviz is situated the 4-star superior spa- and wellness Ensana Thermal Hotel Hévíz where a highly educated team takes care of your feeling well. You can forget the every day stress and enjoy your holiday.
The rooms:
ENSANA Health Spa Resort Hotel Heviz has 210 newly renovated rooms with warm-wooden furniture (203 double rooms and 7 suites). All rooms are air-conditioned. Each room has balcony, bathroom with bathtube/toilet and is equipped with radio, SAT-TV, IDD-phone and minibar. In the bathroom are hair-dryer and bathrobe at the guests' disposal. Connecting rooms, rooms for non-smokers, for handicapped (4) and anti-allergic rooms (2) are available.
Ensana Thermal Hotel Hévíz - Gastronomy:
Restaurant Tavirózsa and Borostyán Brasserie offer for you Hungarian, international, dietetic and vegetarian dishes. In summer on the terrace and in the grill-garden you can enjoy the culinary specialities with accordion music.
In the Coffee Bar Ciklámen - in the evening with agreeable live music - you can taste ice specialities, cakes and fine cocktails.
Meeting facilities:
The hotel's conference rooms are situated on the ground floor next to each other. The Venus and Shakespeare rooms are air-conditioned and have daylight.
A section room with air-condition up to 15 persons is at your disposal on the 7th floor.
In addition to the technical equipment listed the following equipments can be rented: LCD projector, translation equipment, internet connection.
Approach to Heviz:
By car
from Budapest: on the M7 motorway, then from Balaton on highways 7 or 71, 193 km
from Zalaegerszeg: on highway 76,
from Sopron and Sümeg: on highway 84
By plane
to Sármellék (Balaton-West-Airport) 12 km
Other thermal and wellness hotels operated by the management in the countryside: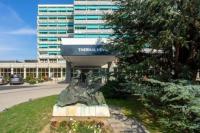 ⛄️ Téli wellness akció a Thermal HÉVÍZ Ensana Health Spa Hotelben (min. 2 night)

2023.11.01 - 2023.12.20
Téli wellness akció a Thermal HÉVÍZ Ensana Health Spa Hotelben (min. 2 éj) 24.000 Ft / fő / éj ártól / félpanzió / szállodai fürdőrészleg / termálfürdő / szaunavilág / ingyenes wifi /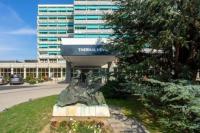 ✔️ Téli wellness élmények előfoglalási kedvezménnyel a Thermal HÉVÍZ Ensana Hotelben (min. 2 night)

2023.11.01 - 2023.12.22
Téli wellness élmények előfoglalási kedvezménnyel a Thermal HÉVÍZ Ensana Hotelben (min. 2 éj) 21.600 Ft / fő / éj ártól / félpanzió / szállodai fürdőrészleg / termálfürdő / szaunavilág / ingyenes wifi /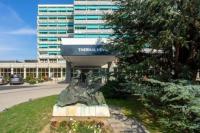 ✔️ Karácsonyi wellness akció Hévízen a Thermal HÉVÍZ Ensana Health Spa Hotelben (min. 3 night)

2023.12.23 - 2023.12.27
Karácsonyi wellness akció a Thermal HÉVÍZ Ensana Health Spa Hotelben (min. 3 éj) 37.250 Ft / fő / éj ártól / félpanzió / szállodai fürdőrészleg / termálfürdő / szaunavilág / ingyenes wifi /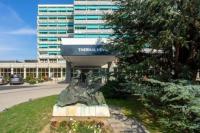 ✔️ Fergeteges Szilveszter Hévízen a Thermal HÉVÍZ Ensana Health Spa Hotelben (min. 3 night)

2023.12.29 - 2024.01.02
Fergeteges Szilveszter Hévízen a Thermal HÉVÍZ Ensana Health Spa Hotelben (min. 3 éj) 53.850 Ft / fő / éj ártól / félpanzió / szilveszteri vacsora programmal / szállodai fürdőrészleg / termálfürdő / szaunavilág / ingyenes wifi /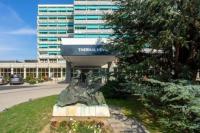 ✔️ Év eleji wellness pihenés a Thermal HÉVÍZ Ensana Health Spa Hotelben (min. 2 night)

2024.01.07 - 2024.02.29
Év eleji wellness pihenés a Thermal HÉVÍZ Ensana Health Spa Hotelben (min. 2 éj) 26.500 Ft / fő / éj ártól / félpanzió / szállodai fürdőrészleg / termálfürdő / szaunavilág / ingyenes wifi /