✔️ Termál Hotel Liget Érd ***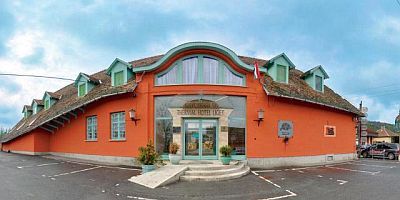 Termal Hotel Liget *** Erd
Dear guests! We would like to inform you that we are not selling rooms in this hotel presently.
Thank you for your understanding! Other Special Wellness Hotels are Abacus Wellness Hotel Herceghalom, the 4-stars Vital Hotel Nautis Gárdony and the Bodrogi Kúria Wellness Hotel Inárcs.
The renovated 3-star Termal Hotel Liget is located in Erd only 15kms from Budapest and awaits guests in search of rest, recreation and healing.
The hotel has 23 modern rooms, restaurant, café, guarded parking, sports ground, own garden and several conference and meeting rooms.
Thermal Hotel Liget is an ideal place for conferences, events and trainings.
The medicinal and thermal bath, belonging to the hotel, serve the comfort of the guests seeking rejuvenation and relaxation.
The hotel has its own medicinal spring originating from 800 meters below the surface. The pools of the bath are filled with this medicinal water. The thermal hotel awaits the guests with multiple wellness and spa services, indoor and outdoor pools, Finnish sauna, salt cave, jacuzzi and medicinal treatments. Come and discover Erd and spend a wellness weekend in Thermal Hotel Liget***.
Thanks to its advantageous geographical situation Erd is easily accessible; it can be reached in 30 minutes from Budapest on M7 highway or route 6.
Rooms:
Thermal Hotel Liget Erd has 18 standard twin rooms, 4 quadruple rooms and one double room with french bed. Most of our rooms have spare beds allowing for the accommodation of larger groups or families.
Room equipment: bathroom (with shower or bath), mini bar, TV, Internet access, telephone, hair dryer, bathrobe.
All rooms are non-smoking!
Thermal Hotel Liget Erd pays special attention to children, so the hotel offers the following child friendly services for families: sheets and beds for children, potty, toilet seat in the bathroom, feeding chair, menu and breakfast for children,indoor and outdoor children's pool, playpen, child care and animation for children.
Restaurant:
The restaurant of Thermal Hotel Liget Erd awaits guests with home style cooking, Hungarian specialities and unique wines. The á la carte menu follows international trends, but also offers seasonal Hungarian dishes.
Guests may dine on the atmospheric terrace in the summertime, or in the café or the restaurant in colder weather. We also provide an organizing service for events, company or amicable meetings, and weddings for up to 120 persons.
The restaurant of Thermal Hotel Liget has several air-conditioned rooms, which have a capacity of 20-120 person. We continuously update our menu and drink selection according to the seasons. In the summertime we cater to our guests with a special grill menu.
Events and conferences:
Thermal Hotel Liget is a certified medicinal spa centre that is also an excellent venue for conferences, trainings and other events for groups of 10 to 120 persons. Our air-conditioned restaurant has numerous parlours and can be darkened on demand. We are able to supply the required technical equipment (projectors, screens, audio) for all your events. Thermal Hotel Liget Erd is an ideal place for conferences, because it is situated close to Budapest, but at the same time the environment is peaceful. Two out of our three rooms can be opened together and there is a possibility to organise our function rooms in several different forms: theatre, classroom and U-shape. In the historical down town of Erd Thermal Hotel Liget offers an ideal place for trainings and for courses.
In our hotel trainings, product exhibitions, and courses can be organised. The participants of different events can use the multiple services of our thermal bath. Our three function rooms, the huge park and the thermal bath offers several possibilities for team building.