✔️ Pannonia Hotel Sopron ****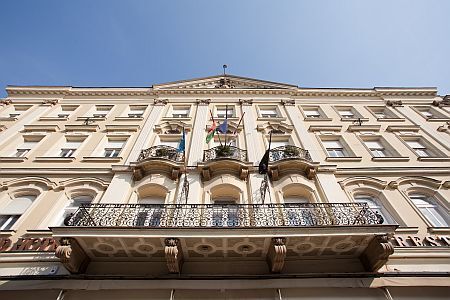 PANNONIA Hotel **** Sopron
Dear guest, please note that hotel cannot take reservations on our website.

The 4-star Pannonia Hotel, the oldest hotel of Sopron, was built in 1893 in Classic-style. It is the most magnificient building of Várkerület and the first hotel of Sopron.
Pannonia Hotel contains the building of the former Magyar Kiraly (Hungarian King) Hotel. It is famous for its guest Franz Joseph, Austro-Hungarian Empire who was accommodated in this hotel in 1884.

After a complete renovation the hotel was reopened in 1994 as Hotel PANNONIA offering new, modern services but its style was maintained.

In 1997 the house was enlarged with a new wing in the yard.
In the 6-storey building deep garage, 15 new rooms and a conference room with a capacity of 230 persons can be found, in addition swimming pool, jacuzzi, Finnish sauna and solarium were at guests' disposal.
The last upgrade was carried out in 2014: the hotel was enlarged to 79 rooms and new wellness services were provided: salt room, steam room, biosauna and infrared sauna.
Pannonia Hotel is reflecting on both the 19th century and modern style. The rooms have different style and basically there are no two rooms which are the same. Some of the rooms have real antique furniture, while others are equipped in modern style.
Standard rooms are smaller, their furniture is simple but well designed, superior rooms are larger and are equipped with air conditioning.
All rooms have LCD TV, telephone, minibar and hairdryer.
All rooms of the hotel are non smoking.
WiFi Internet connection is available in all public areas and guest rooms of the hotel.
Hotel Pannonia awaits its guests with restaurant, drink bar, café and - in summer - a street-side terrace.

Conference rooms in Hotel Pannonia:
- Hall of Europe: with its area of 230 sqm it is the largest conference room of the hotel, which has in-built technology for hosting conferences and meets every requirement. The room is air conditioned and has broadband Internet access both cable and WI-FI which makes it an ideal place also for video conferences.
- Gallery Room (100 sqm): air conditioned room equipped with in-built projector
- White Hall (100 sqm): it is suitable for weddings, presidential receptions or any other type of event. It is a popular venue for banquet style weddings, protocol events or exclusive parties. The room can be approached from the restaurant of the hotel.
- Small Room (50 sqm): with air conditioning

For those who arrive with a car, Hotel Pannonia provides parking lots in the deep garage.