✔️ Hotel Helikon Keszthely ****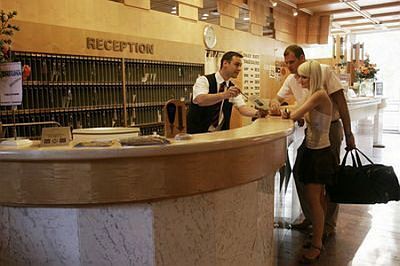 Hotel Helikon Keszthely **** - resort hotel in Keszthely - Lake Balaton
Location:
Keszthely, the small baroque town is located in a wonderful area, surrounded by the mountains of Keszthely and Lake Balaton. There is an excellent IC train connection between Budapest and Keszthely. In the summer period charter flights are available from Germany and Switzerland to Balaton Airport/Sármellék. The hotel is able to organise the transfer from the airport to the hotel and back.
Hotel Helikon rooms:
Hotel Helikon has 224 double rooms and 8 suites. Each room has bathroom, hair dryer, phone, SAT-TV, radio, minibar and balcony offering a nice view to the Balaton, Europe's largest freshwater lake. Non-smoking rooms are available.
Hotel Helikon Keszthely Economy rooms: renovated bathroom
Helikon Standard rooms: new furniture, renovated bathroom, view to Lake Balaton
Hotel Helikon gastronomy:
The restaurant of Hotel Helikon offers you national, international dishes and dietetic menus as well. The hotel suggests you to try its speciality: grilled zanderfillet with 'Keszthely' ragout. Visit the bowling alley of the brasserie: where you can celebrate your win with fine beers on draught. Or would you like to have a romantic evening? - enjoy the agreeable atmosphere of the espresso with live music. The hotel's bar is at your disposal till late in the evening.
Balaton - Keszthely Hotel Helikon Meeting facilities:
There are excellent facilities for organising conferences and banquets. The six conference rooms (2 with air-conditioning) are suitable for accomodate 15-350 people. The rooms - with daylight - have modern technical equipments: video projector, cordless and traditional microphones, flip-chart, slide- and overhead projector, lectern, tape recorder, projection screens, photocopier, world processor and fax machine available, CD-player, laser-pointer, LCD-projector, 8 channels mixer-amplifier.
Approach to Keszthely:
By car
from Budapest: on the M7 motorway, then from Balaton on highways 7 or 71, 187 km
from Zalaegerszeg: on highway 76,
from Sopron and Sümeg: on highway 84
By plane
to Sármellék (Balaton-West-Airport) 12 km