✔️ Hotel Panoráma*** Balatongyörök ***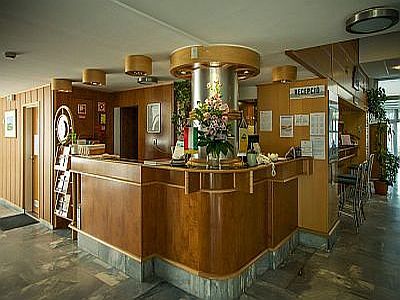 Hotel Panoráma Balatongyörök ***
The Panorama Hotel located on the northern shore of Lake Balaton, Balatongyorok. The Hotel offers excellent relaxation programs not only for guests who's like wellness, but also for families. The hotel offers children's games and a wide range of programs for the youngest.

Panoráma Hotel - Rooms:
The Panoráma Hotel Balatongyörök has 70 rooms with balconies or french balconies. All rooms are air conditioned, each with a television, telephone, fridge, hairdryer and bathroom with shower.

The family rooms consist of two rooms that can be separated by a door, so the entire family can enjoy their stay.

Panoráma Hotel Balatongyörök - Wellness and Fitness:
Hotel Panorama's wellness area includes a swimming pool, Finnish and infrasauna, steam room. From May to October, the sun terrace is also available.
The hotel's fitness room is equipped with some new cardio fitness equipment.
After training, let's enjoy relaxing massages and the Biogreen standing solarium for a fee.
The wellness section is open from 07:00 am to 21:00 pm every day.
From Thursday to Sunday there is also a possibility to use pedicure and manicure services.

In the hotel's expanded medical department, after a specialist examination, you can choose personalized therapeutic treatments such as physical therapy, electrotherapy, agnetotherapy, individual gymnastics, healing massage.

Balatongyörök hotel panoráma - Restaurant:
Panorama Hotel's air-conditioned restaurant serves daily buffet breakfast and dinner.
The hotel's master chef will take care of the fantastic specialties.
Every day at noon there is a three course menu for lunch, and in the afternoon the snack bar serves light snacks.
For childrens, high chair and baby cutlery can be requested.
The hotel's drink bar is open for 24 hours a day.

Family and wedding events, conference:
The hotel's conference rooms, conferences, trainings and weddings also allow up to 110 people.
For guests requiring a wedding ceremony, the hotel offers on demand an ornate room, a festive lunch and dinner, a beautiful balatonpiece environment for those who wish to celebrate.

Beach and other services:
There is a baby and children's beach next to the hotel, which has children's pool, a giant slide, and children's playground.
In all cases, the Panorama Hotel provides free access to the beach!
Wi-Fi is free throughout the hotel.

There is a playground in the garden and playroom for the childrens in the hotel.
The hotel has a closed parking area, which is available to hotel guests for a fee.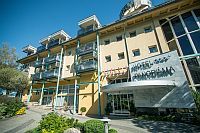 ✔️ Téli álomárak wellness akció Balatongyörökön (min. 2 night)

2023.11.06 - 2023.12.09
Téli álomárak wellness akció Balatongyörökön (min. 2 éj) 18.500 Ft / fő / éj ártól hétköznap / félpanziós ellátás / wellness részleg / szaunavilág / ingyenes wifi /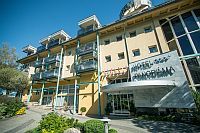 ✔️ Szilveszter a Hotel Panorámában a Balatonnál (min. 3 night)

2023.12.29 - 2024.01.02
Szilveszter a Hotel Panorámában (min. 3 éj) 49.000 Ft / fő / éj ártól / félpanziós ellátás / wellness használat / köszöntőital / gyertyafényes fürdőzés / all inclusive gálavacsora / szilveszteri programok / ingyenes wifi /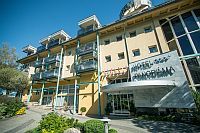 ✔️ Március 15. a Panoráma Hotelben (min. 3 night)

2024.03.14 - 2024.03.17
Március 15-e a Panoráma Hotelben (min. 3 éj) 23.600 Ft / fő / éj ártól / félpanzió / wellness használat / pálinkakupon / szoláriumzseton / ingyenes wifi /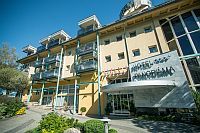 ✔️ Húsvéti wellness akció félpanzióval a Panoráma Hotelben (min. 3 night)

2024.03.28 - 2024.04.01
Húsvéti wellness akció félpanzióval a Panoráma Hotelben (min. 3 éj) 26.900 Ft / fő / éj ártól / félpanziós ellátás / wellness részleg / szaunavilág / húsvéti bekészítés a szobában / ingyenes wifi /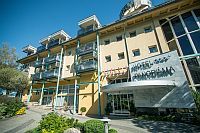 ✔️ Nyugdíjas hétköznapi akció Balatongyörökön (min. 3 night)

2024.03.01 - 2024.04.27
Nyugdíjas hétköznapi akció Balatongyörökön (min. 3 éj) 17.900 Ft / fő / éj ártól / félpanziós ellátás / wellness részleg / szaunavilág / ingyenes wifi /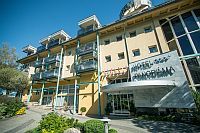 ✔️ Frissítő tavasz wellness akció félpanzióval a Balatonnál (min. 2 night)

2024.03.01 - 2024.04.27
Frissítő tavasz a Balatonnál (min. 2 éj) 19.900 Ft / fő / éj ártól hétköznap / félpanziós ellátás / wellness részleg / szaunavilág / ingyenes wifi /