✔️ Panoráma Hotel Eger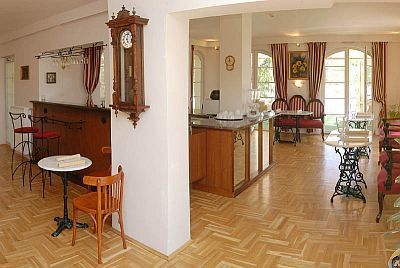 Panorama Hotel Eger
romantic accommodation with beautiful garden for fair prices
Panorama Hotel Eger is located 120 km far from Budapest, in the heart of city Eger. The pension lies in a quiet street above the castle of Eger, offering adorable view to the city and nearest mountains. Also the main attractions of Eger, f.E. the 'Minaret', the 'Basilica' and the 'Liceum'.

Panorama Hotel rooms:
Panorama Hotel Eger consists of two buildings, offering 14 rooms.
The old building's rooms are furbished in antique style, the new block, which has been reconstructed in 2008, awaits its guests with modern and elegant lodgings. All rooms are non-smoker and non-allergic, have wooden floor. Each room is equipped with bathroom, satellite-TV, minibar, hairdryer and free Wi-Fi connection. In large sized rooms also a DVD-player is at hand. The apartment's bathrooms are fitted with jacuzzi as well.
Breakfast is served in buffet-style in the breakfastroom of Panorama Hotel. Half-board dining is also available as required.

Free Wi-Fi connection is available in the whole hotel's area. A seperate room is disposable, suitable for events, up to 20 guests.

Parking in the hotel's parking lot is free of charge.

Hotel Panorama Wellness services:
For guests, starving for relaxation, Panorama Hotel offers various wellness services: infra sauna, solarium, jacuzzi, hydromassage bath, Finnish sauna for personal usage, massage and foot reflexologie are on sale as well.

Leisure services in Eger:
In the hotel's multiple rewarded English-garden supply ping-pong table and bowling-field entertainment, facilities for outside cooking, spitting and grill-parties are also available.

The street the hotel lies in, is running into a sports field, offering possibilities for jogging, football and tennis. The open-air bath and thermal bath of Eger, only 10 minutes walk far from Panorama, provides with its children pool and water castle lots of fun for children.

Also the house of Geza Gardonyi (1863-1922), author of 'The stars of Eger' (1901) expects guests around the whole year. Trees are still growing in its garden, which had been planted yet by the author himself.
Right in the neighbourhood of the Minaret a special feature is waiting for visitors: the 'Marcipania', an exhibition of Lajos Kopcsik, a master confectioner, showing marzipan and icing specialities.