Hotel Corvinus Zalaszentgrót ***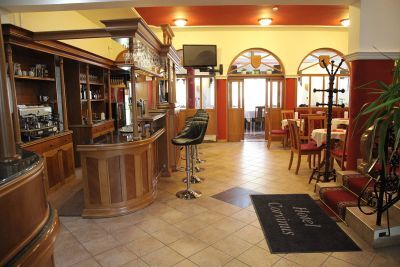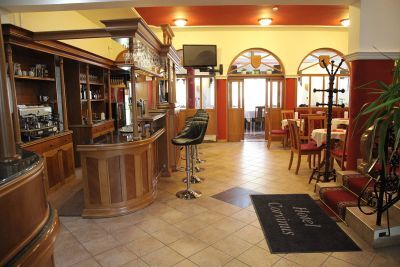 Hotel Corvinus Zalaszentgrót ***
Corvinus Hotel*** is situated in the centre of Zalaszentgrót, only 23 km from Heviz.
Larger cities are easily and quickly accessible from Zalaszentgrót (for example Keszthely 30 km, Sümeg 21 km, Zalaegerszeg 32 km, Kehidakustány 13 km).
Hotel guests can take advantage of the hotel's transit service between the hotel and the Spa of Zalaszentgrót, located only 5 km from the hotel.
The completely renovated 3-star Hotel Corvinus offers 4 Classic, 9 Superior rooms and 3 suites. The well-equipped rooms provide comfortable accommodation all year round.
Corvinus Classic rooms:
We have 4 Classic rooms that have smaller space so extra bed is not allowed in these rooms.
Corvinus Superior rooms:
The hotel offers 9 Superior rooms, which are located on the ground floor and upstairs. Guests can choose a room with one double bed or two single beds. The upstairs rooms have a penthouse design. Most of penthouse rooms are equipped with air conditioning.
Corvinus Suites:
The three suites are designed with separate bedrooms.
The bathroom for each bedroom is equipped with a bathtub.
The wellness section of Hotel Corvinus ensures complete relaxation for our guests who desire rest, and not only hotel guests can enjoy it.
We also offer extraordinary recreation for spa lovers, in the Zalaszentgrót Saint Gróth Thermal Spa for access to the spa you can take advantage of the hotel's transit service.

Wellness facilities in Hotel Corvinus:
The hotel's spa facilities pamper guests with nearly all available means of quiet relaxation.
The following wellness services are available: steam room, Finnish sauna, infra sauna, salt room, standing solarium (térítés ellenében). Between two sauna sessions guests can relax and read in the rest area,
Opening hours: 10.00-12.00 and 17.00-20.00.
The use of the wellness area is available upon prior request.
Hotel services
Group reservation
hotel video
Price information
Cancellation policy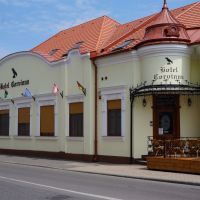 Corvinus hétvégék Zalaszentgróton (min. 1 night)

2020.07.23 - 2020.12.20
Corvinus hétvégék Zalaszentgróton (min. 1 éj) 9.300 Ft / fő / éj ártól / büféreggeli / wellness szolgáltatások / ingyenes wifi / ingyenes parkolás /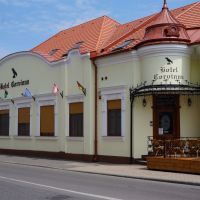 Corvinus hétköznapok Zalaszentgróton (min. 1 night)

2020.07.23 - 2020.12.20
Corvinus hétköznapok Zalaszentgróton (min. 1 éj) 8.700 Ft / fő / éj ártól / büféreggeli / wellness szolgáltatások / ingyenes wifi / ingyenes parkolás /