✔️ Aqua Hotel Termál Mosonmagyaróvár ***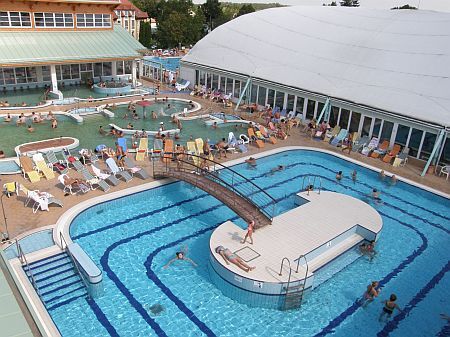 Thermal Hotel Aqua *** Mosonmagyarovar
Mosonmagyarovar is located between Hegyeshalom and Gyor, close to the Austrian and Slovakian border and it is only 160 kms far from Budapest. Mosonmagyarovar is easily accessible on the M1 highway.
The 3-star Thermal Hotel Aqua situated in the heart of Mosonmagyarovar awaits its guests with 59 modern rooms, a restaurant, a drink bar, own therapeutic and wellness section.
Thermal Hotel Aqua rooms:
The basic equipment of the rooms include: bathrobe, hair dryer, safe, TV, phone and minibar. The Standard Plus rooms are equipped with some extra, in these rooms there are individually regulated air conditioner, LCD TV and Internet access as well. The specially formed rooms on the ground floor of Thermal Hotel Aqua serve the comfort of our disabled guests.
Termal Hotel Aqua Mosonmagyarovar standard rooms:
Thermal Hotel Aqua awaits its guest with 3 single rooms, 14 twin rooms, 10 double rooms and with family rooms. The single and double rooms were built in classic style and they are equipped with bath or shower. The accessories of these rooms are the followings: bedside table, toilet table, coffee table, wall mirror and luggage rack. Family rooms are similar to other standard rooms in their equipment, but family rooms are made up of two rooms and there are separate beds in them as well as a double bed.
Termal Hotel Mosonmagyarovar standard Plus rooms:
The hotel has many Standard Plus rooms: 2 single rooms, 30 double rooms and several family rooms. The difference between this room type and the standard room is that Standard Plus rooms are equipped with individually regulated air conditioner, LCD TV, and Internet access. The Standard Plus family rooms are made up of two connecting rooms and both of the rooms have separate bathroom and double beds. The family rooms are ideal for a family with 4 members.
Spa Termal Hotel Mosonmagyarovar, wellness weekend - Wellness:
Thermal Hotel Aqua awaits its guests with its own wellness department, including an inside thermal pool, a Finnish and infrared sauna. These wellness services are available every day between 6 am. and 8 pm. The numerous therapeutic- and wellness treatments of the hotel assures the recreation of both body and soul. Among these treatments there are mud pack, bubble bath, different massages, inhalation and underwater jet massage.
Mosonmagyarovar - Thermal and Medicinal Spa:
Thermal Hotel Aqua is located on the area of the thermal bath, so hotel guests can enter the bath and use the wellness services of Flexum Medicinal Spa free of charge. The thermal bath can be rated among the five baths having the most effective medicinal water in Europe. The acknowledged thermal bath in Mosonmagyarovar awaits its guests with 7 pools with different water temperature. There are several treatments based on the acknowledged medicinal water of the bath, for example the galvanic bath or the electrotherapy. On the area of the bath, operating all year, there are restaurants, pizzeria, dentistry, optical shop, sauna, massage, hair dresser, cosmetician, chiropodist, manicurist, and several smaller shops. All these serve the comfort of the guests of Thermal Hotel Aqua Mosonmagyaróvár.
Pools:
Swimming pool:
33,3m, 28-29 C˚, heated spring-water
Depth: 1,50m
Thermal water pool:
36-38 C˚, chilled mineral water
Depth: 0,75m
Sitting pool:
30-33 C˚, chilled mineral water
Depth: 0,70m
Thermal water pool II:
36-38 C˚, chilled medicinal waters+ jacuzzi, sole-and waist massage blocks
Depth: 0,80m
Wellness-pool:
32-34 C˚ chilled mineral water
Depth: 1,00m
Swimming & exercise pool:
28-30 C˚, water recirculation system
Depth: 1,20m
Swimming pool 25m:
26-28 C˚, water recirculation system
Depth: 1,50m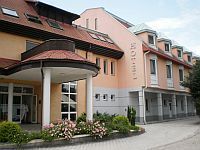 ✔️ AQUA gyógynapok Mosonmagyaróváron (min. 5 night)

2023.09.01 - 2023.12.22
AQUA gyógynapok Mosonmagyaróváron (min. 5 éj) 28.000 Ft / fő / éj ártól / félpanzió / 5 db gyógykezelés / belépő a Flexum Thermal Spa-ba / ingyenes WiFi /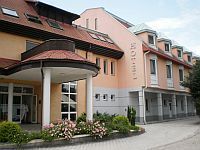 ✔️ AQUA wellness napok az Aqua Termál Hotelben (min. 3 night)

2023.09.01 - 2023.12.22
AQUA Wellness napok az Aqua Termál Hotelben (min. 3 éj) 23.670 Ft / fő / éj ártól / félpanzió / belépő a Flexum Thermal Spa-ba / 15 perc masszázs / ingyenes WiFi /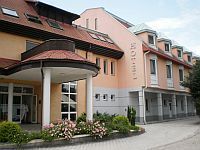 ✔️ AQUA pihenés Mosonmagyaróváron (min. 4 night)

2023.09.01 - 2023.12.22
AQUA pihenés Mosonmagyaróváron (min. 4 éj) 23.250 Ft / fő / éj ártól / félpanzió / belépő a Flexum Thermal Spa-ba / 15 perc masszázs / ingyenes WiFi /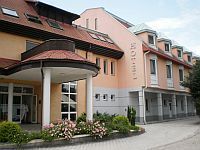 ✔️ AQUA fürdőhét Mosonmagyaróváron (min. 7 night)

2023.09.01 - 2023.12.22
AQUA fürdőhét Mosonmagyaróváron (min. 7 éj) 22.000 Ft / fő / éj ártól / félpanzió / belépő a Flexum Thermal Spa-ba / ingyenes WiFi /