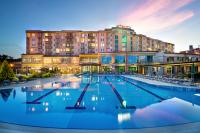 Hotel Karos Spa Zalakaros
8749 Zalakaros, Alma utca 1.
Phone: 00-36-1-2279614
Hotel video
The wellness-, leisure- and conference hotel Karos Spa lies only 400 metres from the centre of Zalakaros in romantic atmosphere, surrounded by vineyards, forests and gently sloping hills. Hotel Karos Spa with its 221 individually air conditioned rooms perfectly complies with the standards of a three-generation hotel. All the different services of the Spa Medical and Health Center and the Harmony Spa-Wellness World are available for guests seeking leisure and regeneration. Hotel Karos Spa ****superior offers various programmes and possibilities to smaller and bigger families.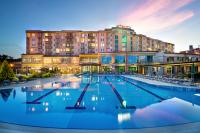 Őszi szünet wellness akció Zalakaroson (min. 2 night)

2022.10.28 - 2022.11.06
Őszi szünet wellness akció Zalakaroson (min. 2 éj) 28.900 Ft / fő / éj ártól / félpanzió / Medical Spa részleg / élőzene a Fodd Gardenben / ingyenes wifi /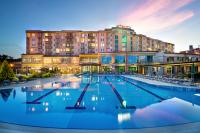 Kedvezményes őszi wellness a Hotel Karos Spa-ban (min. 2 night)

2022.09.01 - 2022.12.20
Kedvezményes őszi wellness a Hotel Karos Spa-ban (min. 2 éj) 20.900 Ft / fő / éj ártól hétköznap / félpanzió / Medical Spa részleg használata / élőzene a Food Gardenben / ingyenes wifi /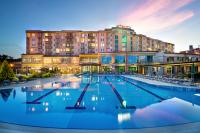 Karácsonyi hangulat a Karos Spa-ban (min. 3 night)

2022.12.23 - 2022.12.27
Karácsonyi hangulat a Karos Spa-ban (min. 3 éj) 33.240 Ft / fő / éj ártól / félpanzió / wellness részleg használata / élőzene a Food Gardenben / ünnepi programok / ingyenes wifi /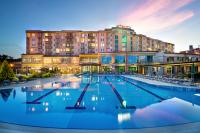 Szilveszteri akció Zalakaroson a Hotel Karos Spa-ban (min. 3 night)

2022.12.29 - 2023.01.02
Szilveszteri akció a Hotel Karos Spa-ban (min. 3 éj) 49.600 Ft / fő / éj ártól / félpanzió / exkluzív gálavacsora / wellness részleg használata / ünnepi programok / ingyenes wifi /