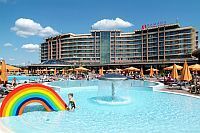 Hotel Aquaworld Budapest**** Hungary
1044 Budapest, Íves út 16.
Phone: 00-36-1-2279614
Hotel video
The four-star superior Aquaworld Resort Budapest offers unique services. The conference and wellness hotel has 309 rooms, suites and apartments with internet connection; a conference centre with a capacity of almost 1000; an independent spa, wellness and fitness unit; an entertainment centre; indoor and outdoor car parks with a capacity of almost 1000 and direct access to Aquaworld, one of the biggest indoor water theme parks in Europe.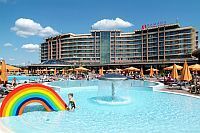 ✔️ Szilveszteri Aqua Party Budapesten (min. 2 night)

2023.12.30 - 2024.01.01
Szilveszteri Aqua Party Budapesten (min. 2 éj) 124.000 Ft / fő / éj ártól / félpanzió / ünnepi büfévacsora / Szilveszter esti Aqua Party / Aquaworld belépő / wellness használat / ingyenes wifi / ingyenes parkolás /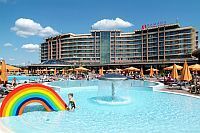 ✔️ Téli wellness akció az Aquaworld Resort Hotelben (min. 2 night)

2024.01.07 - 2024.02.29
Téli wellness akció az Aquaworld Resort Hotelben (min. 2 éj) 44.500 Ft / fő / éj ártól / félpanzió / korlátlan Élményfürdő belépő / wellness használat / ingyenes wifi / ingyenes parkolás /