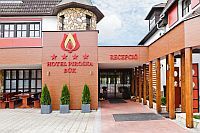 Piroska Hotel Bük, Bükfürdő**** Hungary
9737 Bük - Bükfürdő, Kossuth Lajos u. 60.
Phone: 00-36-1-2279614
Hotel video
The 4-star wellness hotel Piroska**** is located in Western Hungary in the vicinity of spa Buk (Bukfurdo) famous for its medicinal water. The familiar hotel offers 92 non smoking rooms and a restaurant. The hotel's wellness area awaits the guests with indoor whirlpool basin, outdoor swimming pool, Finnish sauna, Turkish steam bath, aromatherapy, tepidarium, cure centre (with special massages and wellness treatments) and beauty salon all year round.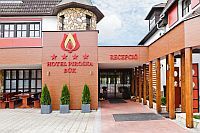 ✔️ Téli wellness akció a Hotel Piroskában (min. 2 night)

2023.12.01 - 2023.12.22
Téli wellness akció Bükfürdőn a Hotel Piroskában (min. 2 éj) 26.280 Ft / fő / éj ártól / félpanzió / wellness használat / ingyenes WiFi /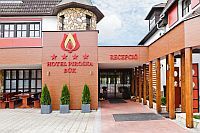 ✔️ Karácsonyi varázs a Piroska Hotelben (min. 2 night)

2023.12.23 - 2023.12.27
Karácsonyi wellness akció a Hotel Piroskában (min. 2 éj) 38.155 Ft / fő / éj ártól / félpanzió / ünnepi vacsorák / wellness használat / ingyenes wifi / ingyenes parkolás /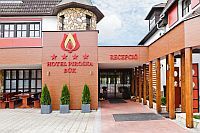 ✔️ Év eleji téli akció Bükfürdőn a Hotel Piroskában (min. 2 night)

2024.01.07 - 2024.02.29
Év eleji téli akció Bükfürdőn a Hotel Piroskában (min. 2 éj) 22.250 Ft / fő / éj ártól / félpanzió / wellness használat / ingyenes WiFi / ingyenes parkolás /