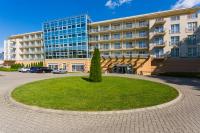 Hotel Gotthard Szentgotthárd**** Hungary
9970 Szentgotthárd, Füzesi út 3/b.
Phone: 00-36-1-2279614
Hotel video
Gotthard Therme Wellness & Conference Hotel ****superior Szentgotthard with the largest conference capacity in Vas county is located in the heart of Szentgotthard near to the Austrian border. Gotth'Art Wellness & Conference Hotel awaits its guests with air-conditioned rooms, fitted with Wi-Fi connection. There is a direct connection between the Hotel and the Spa Complex. Guests of the hotel are offered with perfect entertainment by the Theme park all around the year: around 1500 sqm waterface, special slides, hydromassage-baths, saunas, classical Roman baths, sport facilities, health- and wellness-treatments spice up your stay.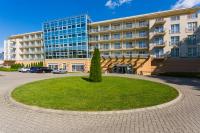 ✔️ Húsvét a Gotthard Wellness Hotelben (min. 3 night)

2023.04.07 - 2023.04.10
Húsvéti akció félpanzióval Szentgotthárdon (min. 3 éj) 42.570 Ft / fő / éj ártól / félpanzió / soft drink italcsomag / belépő a St.Gotthard Spa és Wellnessbe / ingyenes WiFi /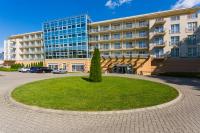 ✔️ MÁJUS 1. wellness akció Szentgotthárdon (min. 3 night)

2023.04.28 - 2023.05.01
MÁJUS 1. wellness akció Szentgotthárdon (min. 3 éj) 26.740 Ft / fő / éj ártól / félpanzió / soft drink italcsomag / belépő a St.Gotthard Spa és Wellnessbe / ingyenes WiFi /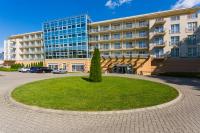 ✔️ Pünkösdi akció a Gotthard Hotelben Szentgotthárdon (min. 3 night)

2023.05.26 - 2023.05.29
Pünkösdi akció a Gotthard Hotelben Szentgotthárdon (min. 3 éj) 35.240 Ft / fő / éj ártól / félpanzió / soft drink italcsomag / belépő a St.Gotthard Spa és Wellnessbe / ingyenes WiFi /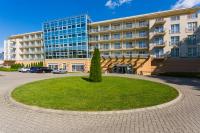 ✔️ Tavaszi hétvégi wellness akció a Gotthard Hotelben (min. 2 night)

2023.03.01 - 2023.05.31
Tavaszi hétvégi wellness akció a Gotthard Hotelben (min. 2 éj) 30.650 Ft / fő / éj ártól / félpanzió / soft drink italcsomag / belépő a St.Gotthard Spa és Wellnessbe / ingyenes WiFi /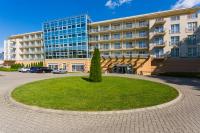 ✔️ Tavaszi hétköznapi wellness akció a Gotthard Hotelben (min. 2 night)

2023.03.01 - 2023.05.31
Tavaszi hétköznapi wellness akció a Gotthard Hotelben (min. 2 éj) 23.900 Ft / fő / éj ártól / félpanzió / soft drink italcsomag / belépő a St.Gotthard Spa és Wellnessbe / ingyenes WiFi /